USEFUL IDIOTS/USELESS INTELLECTUALS
UPDATE 6/9/22: For consistent production of wrong-headed gibberish spewed out and hailed as wisdom, nobody surpasses Tom Friedman…except for fellow Gray Lady fraud Paul Krugman.
UPDATE 6/8/22: There are only so many ways of describing the unfortunate occurrence that happened to the Presidency and to the country. His name is Joe, and he is that proverbial accident that is no longer waiting to happen. 
CLINTON (The Thing That Wouldn't Leave)
UPDATE 6/8/22: OpenTheBooks investigation reveals hundreds of $millions in royalties paid out to the Vax gang, including the beloved Dr. Tony.
UPDATE 6/7/22: Mention of Jackson Lee's latest little bit of gifting herself the armed protection she vociferously denies the Little People  is just an excuse to gleefully repeat this priceless description of the pride of the Congressional Black Caucus: "dumber than a bunch of rocks caught in the hubcaps of a slow bus going the wrong way on a one way street in the middle of a flood."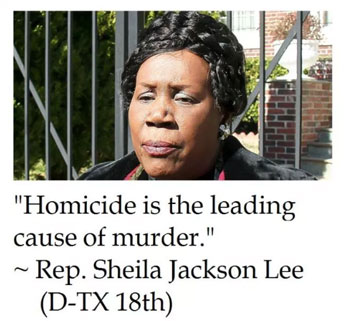 SUPREMES-Different faces, still a Leftist Weird Sister act