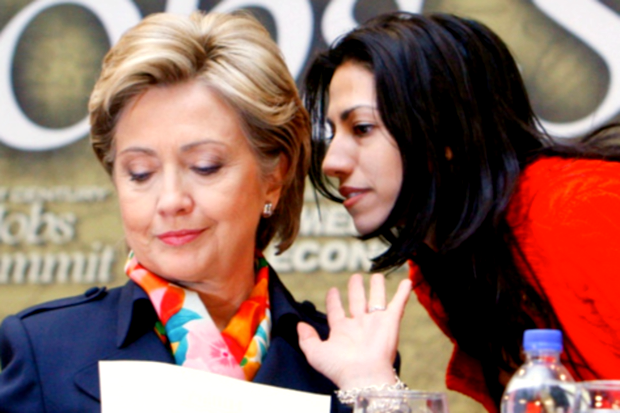 UPDATE 9/16/17: Shock, dismay and tears as Mr. & Mrs. Carlos Danger officially call it quits at the   prompting of the "naïve" Mrs. Danger. Meanwhile, it's revealed that Huma's Muslim Brotherhood Mom influenced Feminist Icon Mme. Secretary's speeches in Saudi Arabia, stressing the elimination of such irreconcilable concepts as "freedom" and "women." When Progressive, one must be tactful when addressing those who would just as soon cut your throat. No word from would-be Muslim converts Gloria Steinem and Madeline Albright or, for that matter, all those outspoken American feminists who've turned a blind eye to Islam's rather medieval take on their entire gender.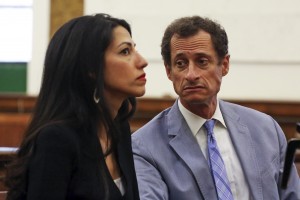 UPDATE 3/27/17: The Carlos Dangers are "working on their marriage." They also can't be forced to testify against one another while they remain married. Isn't that romantic?
UPDATE 1/21/16: Mrs. Carlos Danger's hands-on collusion in Hillary's email problem makes fashion watchers see possible jailhouse orange in her future. Is there a bottom of a bus in Huma's future if Hillary decides her Muslim Brotherhood princess is the one to take the fall?
Leave it to Hillary to stretch the boundaries of outrageous impropriety (and worse) and be given a pass on it by the MSM. It's well known her shadowy shadow, right hand girl and high-end Go-Fer is Huma Abedin, member of an upper crust radical Islamic family virtually steeped in anti-Western, pro-Sharia activity. In case no one has mentioned it, we're at war with radical Islam, but, hell, what difference does it make?