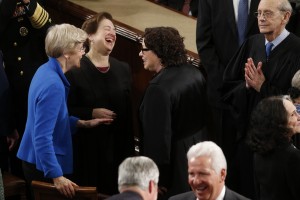 The only male (presumably toxic) among that coven of lifetime Lefty lawyers given carte blanche to override the American Constitution: Federal Obamacare bail-out, imposition of gay marriage as national policy, enforced neighborhood red-lining, the opportunity to limit free speech if it doesn't happen to be politically correct, making the death penalty "unconstitutional," all side-stepping that annoying little business about letting individual states decide controversial issues, one at a time.
Mr. Breyer is indeed a scoundrel with clout.
Not incidental to his strongly Progressive political ID, Breyer has a daughter Chloe, an Episcopal seminarian and author of a "plodding, shallow account" of her spiritual odyssey through the world of Liberal Christianity. In Chloe, perhaps one can discover everything false, superficial and hare-brained about today's Double-Thinked Liberal Elite of which her hapless father is most unfortunately a major Player.