Michelle-Antoinette's Closet
UPDATE 7/2/17: Something's changed since last Fourth of July. Hard to pinpoint just what….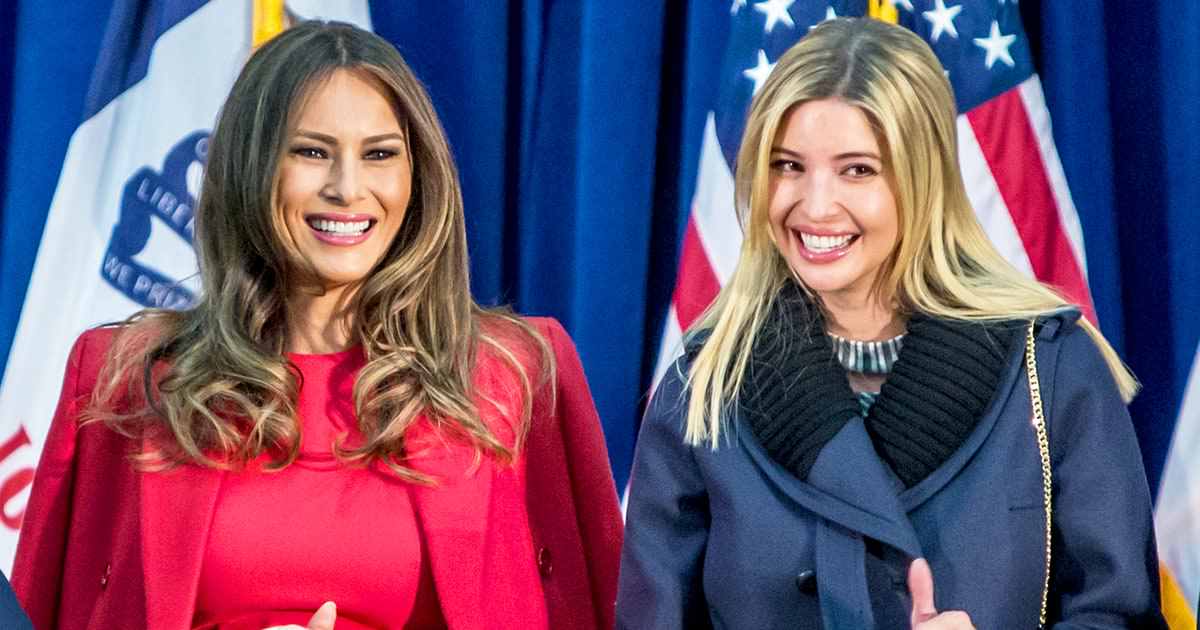 UPDATE (1/8/13): So sensible, so practical, so like you and I and the rest of us taking $7 million Christmas vay-cays in Hawaii courtesy of the U.S. taxpayer…
Michelle Obama Wears Same Target Dress Traveling to and from Hawaii Vacation!!
"… If the FLOTUS is cool with wearing the same dress twice on vacation, we are definitely going to start packing light. There's no need to cram loads of wardrobe options into an overstuffed suitcase when you can look this good over and over again in the same dress."   Riiiiight?! Right.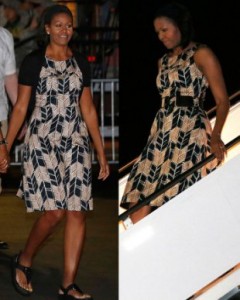 Lovely to look at…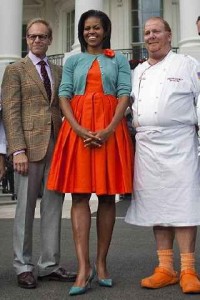 Delightful to know…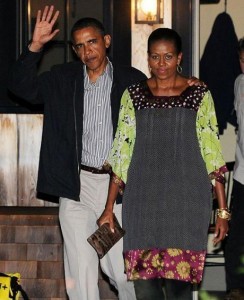 And heaven to kiss…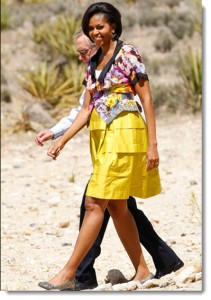 A combination like this…
Is quite my most impossible scheme come true….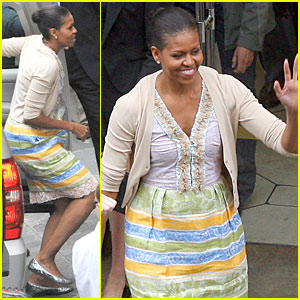 Imagine finding a dream like you…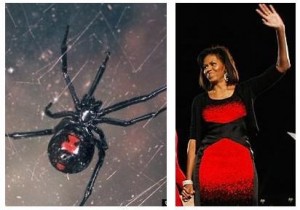 You're lovely to look at…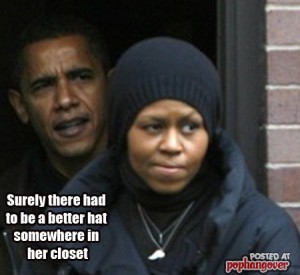 It's thrilling to hold you terribly tight….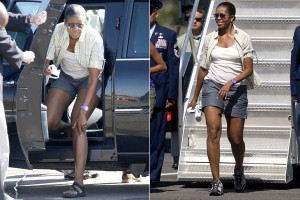 For we're together…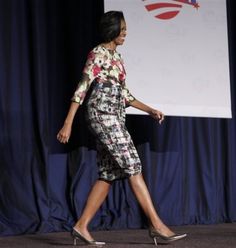 The moon is new…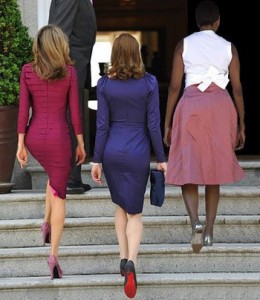 And Oh! It's lovely to look at you…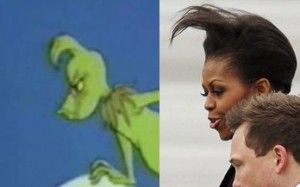 Tonight.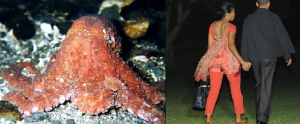 And here she is, shockingly chic and feminine…and totally inappropriate. With a sharp, conscientious eye to the solemnity of the occasion, our casual couple begrudgingly strolls for the cameras through Arlington National Cemetery on the 10th anniversary of 9/11: he sans tie, she in frills and carrying a cell phone in case her travel agent happens to call.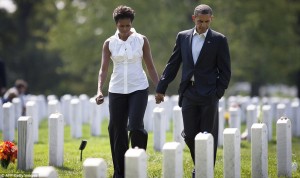 Reminiscent of her other stand-out appearance at the Arlington Tomb of the Unknown Soldier two years before where she takes a cue from Scarlett O'Hara by having her outfit made from the blue dacron curtains at Motel 6.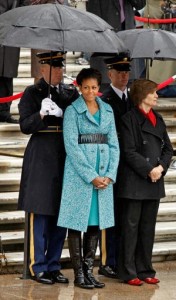 Not to be outdone by her American graveyard fashion coup, she wows London at another wreath-laying ceremony at Westminster Abbey.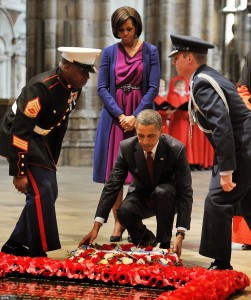 Heading to a glamorous dinner party? A Beyonce command performance at the White House? A luau honoring the Hawaiian geeks who doctored Barack's birth certificate? Almost. The get-up you, I or anyone would pick for a Medal of Honor ceremony posthumously honoring a hero killed in Afghanistan. Oh, maybe she's on her way to a big night out and is being held up by the annoying Medal to-do. All that for a dead soldier!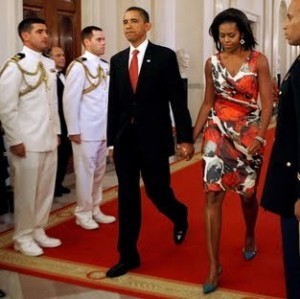 Here's  that good old Obama-In-Your-Face thing of reminding us that some members of the great socialist brother & sisterhood are more equal than others. After all, somebody has to be queen, and it might as well be Mois-chelle-A! Only $2700.00 for a casual cardigan, and it probably comes in several different colors.
 Lavin Cap Toe Sneakers with grosgrain ribbon laces. A steal for $540. Both left and right shoe included. Toe covers extra.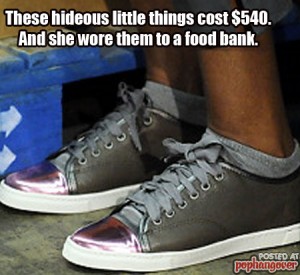 Marie-Antoinette got her kicks slumming as a common shepherdess while our Michelle-Antoinette gits down & dirty in "her" White House garden.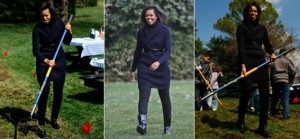 Live naturally, do without, have simple tastes, cultivate your garden, eat healthy and  wear old sensible shoes…currently only $950.00 at Jimmy Choos' website, including stamped plaque on the back and "available without the fur lining."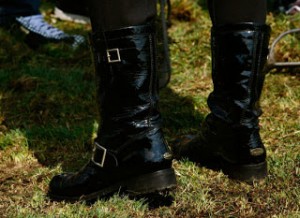 I show up at my kids' PTA confererence, and all I come home with is this lousy $1,000 tote bag.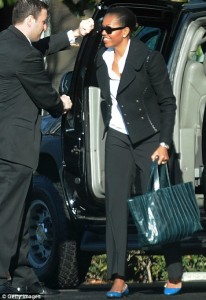 An appealing look.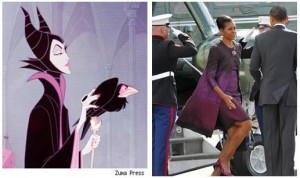 Some individuals are described as colorful. Others are better described as loud.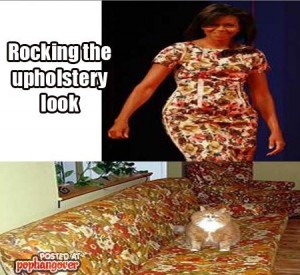 The Italian widow/pious Catholic school girl Look, complete with trademark high corset belt. The shiny patent leather cinch perfectly coordinated with her Mary Janes(that reflect up).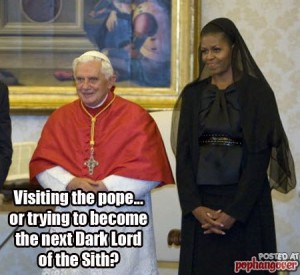 Something requiring serious forethought. Here she bonds sartorially with Gulf oil spill victims. Genuine empathy is a must for effective First Ladying!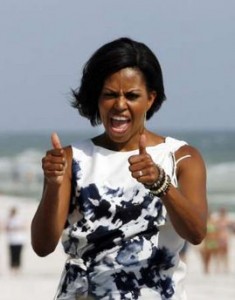 The difference is that the poor poodle had no choice in the matter.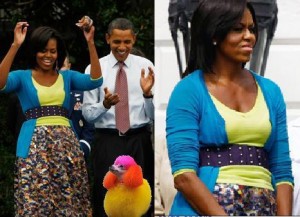 Imagine the unfairness of  "an image that people have tried to paint of me since the day Barack announced. That I'm some angry black woman."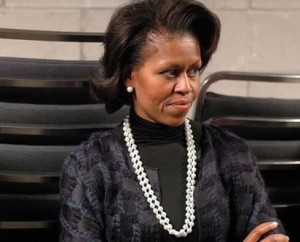 The Natural Symmetry of an Un-angry black woman: half argyle preppie, half blue sparkle Italian wedding bridesmaid.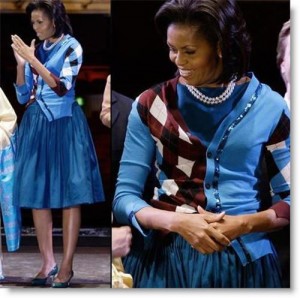 The Inner City Look: paint-spattered graffiti pants: only $695.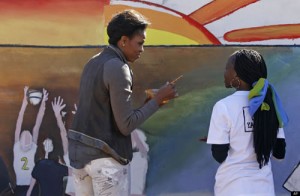 She ran into my paint brush. She ran into my paint brush 10 times. Another unfortunate Sherwin-Williams encounter…and no time to change.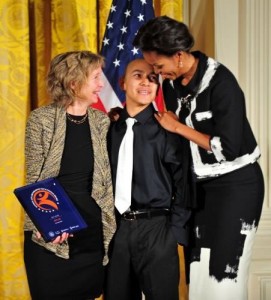 Bound for the White House Thanksgiving dinner table, this ample turkey is pulling all available strings to attain a Presidential Pardon.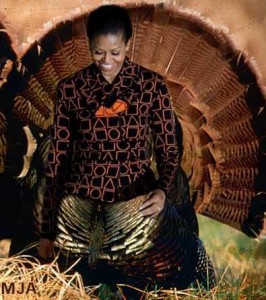 Special thanks to Moonbattery.com and Hillbuzz.org for a goodly portion of the fashion show. Do not miss Hillbuzz's entire "Who's Dressed Better" montage. And then there's "Class vs. Crass."