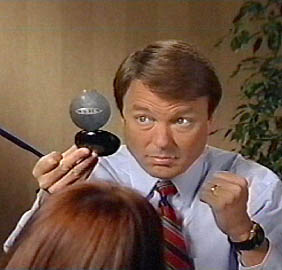 At some impending pivotal moment, the ever-pragmatic Democratic Party just might concede that they can't  force the indigestible Mrs. Bill Clinton down the public's gullet. Although Secretary of State John Kerry (who served in Vietnam) remains steadfastly ready to report for duty, there is always the very yesterday (and beautifully coiffed) John Edwards, a former darling of the The People's Party and champion of…well, if not Every Day peons or The Other   of his Two Americas, then at least of John Edwards.
 All that  embarrassing stuff : the shameless (now genuinely deceased) St. Elizabeth willing to make political capital of her cancer, the cheesy girlfriend Rielle (and baby makes three!)…Sure! He'd be more than happy (and qualified!) to answer his Party's call! When they were in their glory, the Edwards' were the two least desirable neighbors one could conjure up. Who better embodies the Demo Party's attraction to serial liars, misogynists and career dissemblers?
The essentially empty John Edwards (and modern Democratic Party), immortalized on YouTube.