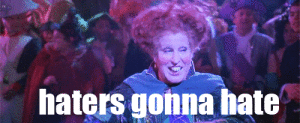 UPDATE 12/10/21: It's been said with some accuracy that politics are just downstream of culture, presently evidenced by recent Kennedy Center honorees unable to contain their mindless robotic hatred of all things Trump. Glorying in the achievements of the first Kennedy Center honorees-Richard Rodgers, Marian Anderson, Fred Astaire, George Balanchine and Arthur Rubinstein-is light years in the past. The thrill then lay not only in their great artistic attainments but also that all were proud Americans and mindful of what that unique privilege allowed them to accomplish. That great art always transcends politics and can and should bridge the legitimate differences between people is totally lost on this current Woke artsy crowd. Whatever talent they've displayed is despoiled by their stupidity…and total lack of class.  
O for the good old days….
ORIGINAL POST 9/15/19: The bawdy, fun, strikingly original Divine Miss M is no more, now just another mindless Limo Lib,  vomiting out her own foul stream of Trump hate to stay relevant. Refreshingly, she (and those legions of other mental midgets on the Left) is called out as the contemptuous bigot she is from her own Hollywood celeb ranks, a remarkably sensible Kirstie Alley.
No amount of soap, water, money, fame, cheap titters & giggles or affirmation from one's like-minded morons will ever make Bette Midler palatable again, let alone "divine."