Gloria Allred/Lisa Bloom
Our constitutional legal system is, like freedom itself, easily exploited by those with no scruples. Thus, our national carnival boasts the likes of Mother/Daughter act Gloria Allred/Lisa Bloom, a pair of shameless bottom feeding barracudas, legal specialists in the soaking of rich, influential men on behalf of  their female "Victims."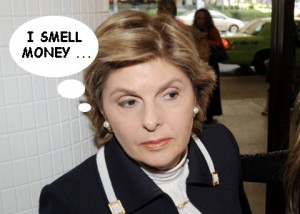 Mama Gloria has led the way with a long sordid history of sniffing out financial opportunity from the "feminist" angle and shaking down high-profile gents eager to buy their way out of some or the other woman trouble, genuine or otherwise.
MiniMamaMe Lisa has recently earned her own stripes by bringing down Bill O'Reilly and most recently jumping into the Kathy Griffin fray, trying to turn Griffin's seriously backfired Performance Art assassination of Trump into…(what else?)…an attack by a White Man on yet another Victimized Girrul! Like most outrageously High Hypocrisy from the Left, it's Because They Can unless and until someone/something stops them. For the Left and its opportunists, freedom is license, and what better licentious forum than a legal system offering the 50/50 chance of getting away with anything.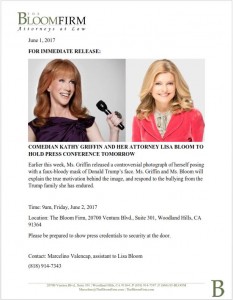 Female? Got a grievance? Something that will attract publicity? Potential big bucks to be reaped? What Jesse Jackson and Al Sharpton are to the Racial Grievance industry, so Gloria and her evil spawn Lisa are to Progressive America's Permanent Female Disgruntlement (PFD).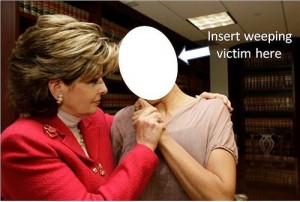 Litigation Queens and Publicity Whores Gloria and Lisa: their ever-open arms (and greased palms) around some teary-eyed Miss Victim as the cameras snap and extorted payola piles up around them. Such creatures give stature to the $5 hookers of the world.