Nancy Pelosi: Estrogen Edsel, Unsexed Political Robot
UPDATE 8/26/17: Whole lotta howlin' goin' on as Nutty Nancy the meme mixer warns about the dangers of "crying wolf in a crowded theatre." Quite so. Crying "racism" at any sign of opposition to their agenda has somewhat diminished the credibility of the Dem Party and its affiliates all up and down the Left. Clearly, racism matters not so much as silencing all voices but their own in our political life. But that's what totalitarians and fascists of all stripes do: that…and calling themselves "anti-fascists."
So Nancy Pelosi has suddenly been deemed  toxic by her own Party, all those million$ and million$ flushed away in Georgia and nary even a peach pit of acquired power to show for it.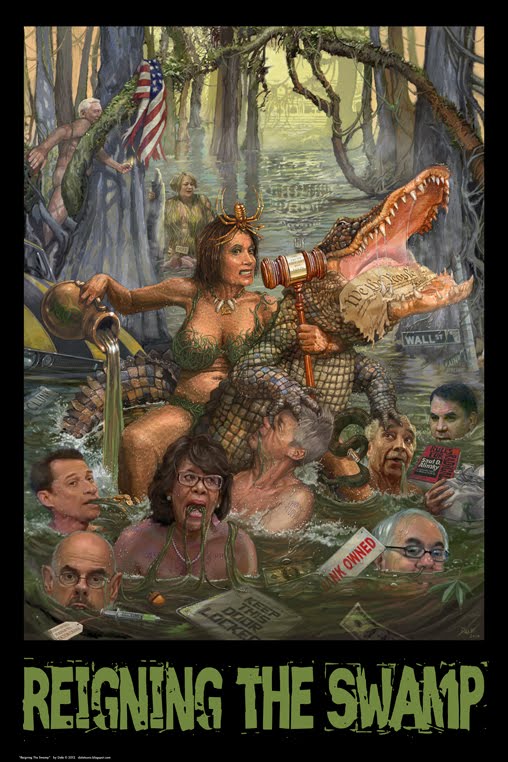 The naïve amongst us might suggest that, perhaps, just maybe, the Donkey brigade might have seriously reviewed this charmless scold's painfully long-running record of corruption, lies, slander and astonishing hubris. But of course they did. No mistake or misstep here. Who better as the face and voice of the 21st century's Democratic Party?  Who could shamelessly go before the cameras all these years, spew acid and lies with such cold, comfortable ease? Fortunately, she and her agenda are not selling as they once did.
If genuine human progress remains the ultimate end of any politics, how long can a smug, power-gobbling Party endure when it lays exclusive claim (among many things) to championing women…and produces female impersonators like Hillary Clinton, Elizabeth Warren and Nancy Pelosi as its figureheads and prize trophies?
To sell anything, one must have an attractive product, and these hollow creatures are estrogen Edsels.  Power as an end in itself corrupts, and these females prove nothing more than that they can be the rotted-out equals of their male counterparts. Does not Lady Macbeth make the same satanic bargain in pursuit of power when, about to murder the King, she goes against her own nature to beseech a Higher Power to "unsex me here?" Females like Nancy Pelosi (and Hillary Clinton and Elizabeth Warren) can never be women. Real women contain and civilize. Females like these voracious political automatons only consume and destroy.
Perhaps the Dem Party might consider a major facelift.